KRISTEN NICOLE, EXECUTIVE DIRECTOR
Kristen Nicole is the Founder and Executive Director of WISE, a solar industry and power systems professional with public and private sector experience, her focus has been on strategies to address the power systems integration and variability challenges associated with solar energy and other renewable technologies. She is an independent consultant and has served as Director of Business Development for EnterSolar, based out of New York City and was on the beta-launch team of Gridco Systems, based out of Boston. She has previous experiences with the U.S. Department of Energy, the Electric Power Research Institute (EPRI) and the White House Council on Environmental Quality. Kristen has advocated for and contributed to numerous codes and standards committees, including IEEE 1547, NEC and Rule 21. Kristen has testified to the CEC, CPUC, FERC and other regulatory agencies. She is a proud seven-year published member of the IEEE and the Power and Energy Society. She sits on the Board of WISE and is an executive committee member of the Board of Directors of the North American Board of Certified Energy Practitioners (NABCEP), the body that certifies solar installation professionals.
Kristen holds a BA from Boston University and an MBA from The George Washington University. Kristen is based out of Salt Lake City, UT. She enjoys real estate, camping, hiking, music, astrology and intuitive energy healing work.
MICHELLE HUGHES, CPA, FINANCE + ACCOUNTING
As Finance and Accounting Manager, Ms. Hughes manages WISE funds and develops regular reporting for the organization. Michelle is also CFO of Solar Sister, a WISE partner organization and solar non-profit that works primarily in Africa empowering women and providing economic opportunity through sustainable energy products.
Michelle is the Owner of Michelle Hughes CPA, an accounting firm that assists small businesses and non-profits with accounting and financial management. She is the co-founder of W.E.B.O.N.D., an organization focused on women's empowerment in the East Bay. She has previous experiences with Farmer & First PC, Braver PC and MARCUM.


AMY BELEY, VICE PRESIDENT
Amy has over 12 years working in residential energy. Her expertise spans multiple aspects of the home performance industry, with a strong emphasis on how to enhance the contractor experience.
She has designed and supported home performance programs across the country and provided training to 100's of contractors. Amy also supported the expansion of the EPA/DOE Home Performance with ENERGY STAR program. Ms. Beley has presented at multiple conferences and events across the country and consulted with programs designing contractor account services.
She has a BA in Environmental Studies and Economics from University of California at Santa Cruz and an MS in Environmental Sciences and Policy from Johns Hopkins University. She is serving as Interim Executive Director of Efficiency First National, and is an independent consultant and yoga instructor in San Francisco, CA.
Board of Directors
Kristen NicolE (See above)
Sarah Truitt
National Renewable Energy Laboratory
BENJAMIN LAWLESS
LATHAM & WATKINS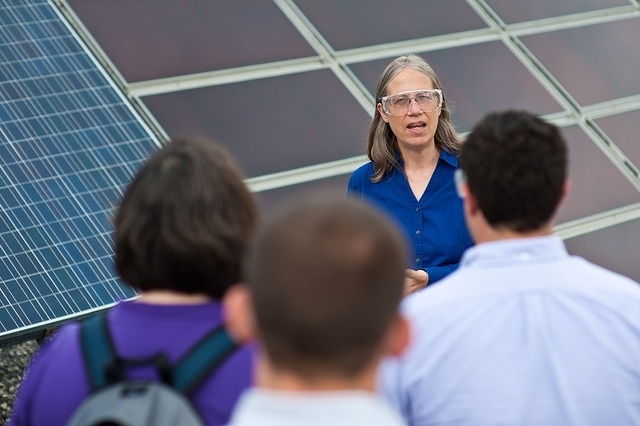 INDUSTRY + Media PARTNERS