The renewable energy industry, precisely the solar industry, has trends that come and go like other industries. As a stakeholder – a solar installer or solar manufacturer, it's in your best interest to keep abreast of the latest in solar thermal technologies or solar industry events. Interestingly, this can be done through multiple ways – reading online publications via leading solar energy blogs and online magazines on the latest happenings in the solar industry, searching for solar forums and joining them, or attending solar events such as solar conferences or trade shows.
We're only concerned with one of these ways, and that is solar conferences. There are so many solar events that take place around the world. We'll be discussing several of them to give you a sneak peek. However, the first call of duty will be to educate you on the difference between photovoltaic trade shows and conferences because it's easy to mix them up.
The Difference Between Solar Trade Shows and Conferences
The significant difference between both solar events is what happens in them. For tradeshows, it's an avenue for PV manufacturing facilities and other solar solutions firms to market their products and services. It's also an event where solar companies meet with influencers, potential investors, or customers in the solar industry. It could be between two solar PV professionals – a manufacturer, distributor, or installer. It's a more business-oriented event.
Conversely, a conference is an event where several professionals in the industry gather to consult, exchange information, get educated, or talk about a certain topic. It's a more information-oriented event. So, you're more likely to leave a conference more educated or informed on the industry happenings or market trends than in a tradeshow.
Some cases of hybrid solar industry events include a tradeshow and a conference. The conference can be part of a tradeshow or exhibition. Conversely, there are several tradeshows within a conference event.
When it comes to similarities, both conferences and trade shows are sponsored by the same crop of stakeholders in the renewable energy sector.
It doesn't matter if the conference is independent or as part of a tradeshow; the purpose of the event is the same – informing and educating on market developments. Let's look at some of the leading solar PV conferences in the world.
Leading Solar Events Around the World
New York Energy Week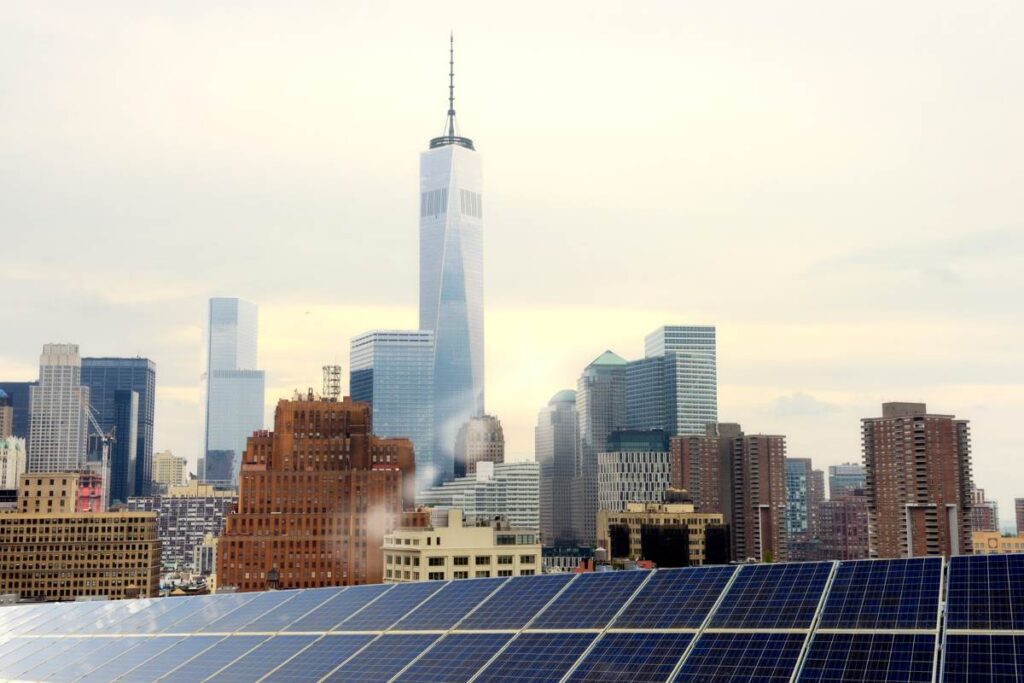 This event began in 2013. It was created by EnerKnol. This event aims to bring together various stakeholders or participants in the entire energy sector, including clean energy, fossil fuels, regulators, utility companies, financiers, law, academia, government, media, and so on. It plays a big role in increasing harmony among the highly segmented sectors in the energy generation industry and affiliated parties. Since 2013, New York Energy Week has succeeded in hosting more than 7,500 solar authorities from different countries and overseeing a digital partnership network with over 2.5 million professionals globally. If you intend to attend this year's edition, that means you'll be attending the 10-year anniversary of this event.
Below are the details of the conference:
Next event: June 20-22, 2023
Website: https://nyenergyweek.com/
Location of the event: New York City, New York.
Intersolar North America (ISNA)
This is one of the major events for discussing a clean energy future in the North American region. Last year, ISNA partnered with Energy Storage North America (ESNA) to host the largest energy event in the region. This event hosted nearly 300 exhibitors and 4,500 attendees, including energy policymakers, installers, solar panel manufacturers, developers, and solar technology providers.
The most exciting fact about this annual event that makes it a favorite among many is its annual solar games, where various installers will compete to assemble grid-tied and off-grid solar systems with the materials provided by the event sponsors. Unfortunately, this year's edition has taken place already, but you can look forward to next year's.
Below are the details of the conference:
Date of the event: Feb 14-16, 2023
Website: https://www.intersolar.us/
Location: Long Beach, California.
Intersolar Europe
Intersolar Europe has a reputation for being the world's leading exhibition. Like other conferences, it brings together several parties in the industry. Attendees comprise solar project developers, distributors, manufacturers, and service providers from around the world. It's one of those solar industry events where new market developments and technologies are discussed. It provides networking opportunities for solar solutions providers to meet and secure new clients.
Last year's edition was via social media, but this year's edition, which is a few days away, will be in a physical location.
Below are the details of the conference:
Date of the event: June 14-16, 2023
Website: https://www.intersolar.de/home
Location: Munich, Germany
Intersolar South America
Intersolar South America is the premier solar thermal and PV event in the Latin American region. The focal points of this conference are the existing and latest technologies as well as the production of energy storage and solar PV panels. It's a hybrid event that features an exhibition alongside the conference. While the exhibition is for the presentations of manufacturers, distributors, and other relevant parties, the conference is centered on the discussion of PV trends and policies.
Below are the details of this event:
Date of the event: August 29-31, 2023
Website: https://www.intersolar.net.br/home
Location: Sao Paulo, Brazil
Solar Power International
This annual event is every September. It's a very relevant PV expo in the North American region. It's a gathering of North American solar professionals and vendors to share insights that can give companies an edge in the industry. Aside from the business opportunities available here, this international exhibition will present the latest solar energy products and services on the market.
SPI is the forerunner and flagship event that commences the North America Smart Energy Week. This is not a surprising fact considering that it's the largest solar gathering of industry experts in the region. SPI is beyond an anchor event, it is the benchmark for other solar events in the region.
Below are the details of the conference:
Date of the event: September 11-14, 2023
Website: https://www.solarpowerinternational.com/solar-power-international/
Location: Sands Expo, Las Vegas
Solar Summit
Unfortunately, the 2023 edition of Solar Summit has already taken place in March, but this shouldn't stop us from telling you about this prominent event. It's an annual strategic conference that's the brainchild of Greentech Media, a company that's considered an information service authority on next-generation electricity.
This event started over a decade ago, and it assembles one of the largest gatherings of solar decision-makers that will define the latest trends in the industry. Other topics will include panel technology, solar new markets, and how the financing of solar projects will be affected when the Investment Tax Credit steps down.
Below are the details of this event:
Date of the event: 8-9 March 2023
Website: https://www.greentechmedia.com/events/live/solar-summit
Location: Radisson Collection Hotel, Grand Place Brussels
Ethioweetex
EthioWEETEX is one of the most prominent solar events in Africa. The name of the event covers virtually every renewable energy source. This solar technology exhibition's meeting place is in Ethiopia. It aims to bring together exporters, foreign stakeholders, local distributors, importers, and domestic traders. This event presents an opportunity for the country to improve its growing imports and expose its solar products and services. It's the perfect tradeshow for foreign solar brands looking to break into emerging African markets. This event combines a trade show and a conference.
Below are the details of this event:
Date of the event: sometime in June
Website: https://ethioweetex.com/
Location: Addis Ababa Exhibition Center, Addis Ababa, Ethiopia
K.EY Energy
When it comes to an event for renewable energy sources in Italy, K.EY Energy is that event. It gives the industry an excellent opportunity to display integrated solutions, solar services, and products that can spearhead the switch to a zero-carbon economy and enjoy the transformational impact that comes with it. K.EY Energy represents a scientific, cultural, and technical hub for photovoltaics experts. This event has already taken place, but you can look forward to next year's edition. K.EY also hosts expos for wind energy, hydrogen, Sustainable City, e-Mobility, and energy efficiency.
Below are the details of this event:
Date of the event: March 22-24, 2023
Website: https://en.keyenergy.it/
Location: Rimini, Italy
Pv Expo Japan
The PV Expo Japan, a renowned solar event in Far East Asia, was already in March this year, but there are still a couple of conferences to go before the year is over. This event displays an array of solar technologies and products, including discussions on next-generation solar cells and the construction of solar PV plants. This PV Expo is well-established in solar circles as one of the best places to visit the industry's business. It's a 3-day event; unlike many other events, it is thrice a year.
Below are the details of this event:
Date of the event: March 15-17, September 15-17 & November 15-17, 2023
Website: https://www.wsew.jp/hub/en-gb/about/pv.html
Location: Tokyo, Japan
Solar Solutions International
Unfortunately, this event finished already, and there will be no more conferences this year again. You'll have to wait till next year. Solar Solutions International is regarded as the biggest solar trade show in the Northwestern region of Europe for solar and storage products and services. This show runs at the same time as Green Heating, an event centered on sustainable HVAC technology. Last year's edition of this conference was the biggest so far; it involved networking opportunities and practical seminars. Attending this show means you'll keep abreast of developments in the solar industry and sustainable heating sector.
Below are the details of this event:
Date of the event: March 15-16, 2023
Website: https://en.solarsolutions.nl/
Location: Expo Greater Amsterdam, Netherlands
World Future Energy Summit
This event is held annually in the United Arab Emirates, and it's hosted by Masdar, a renewable energy company. This conference has the patronage of the crown prince of Abu Dhabi. This event has five facets – the summit, the Young Future Energy Leaders program, the project village, the exhibition, and the forums. This event took place at the beginning of the year.
Below are the details of this event:
Date of the event: Jan 16-18, 2023
Website: https://www.worldfutureenergysummit.com/
Location: Abu Dhabi, UAE
All-Energy Australia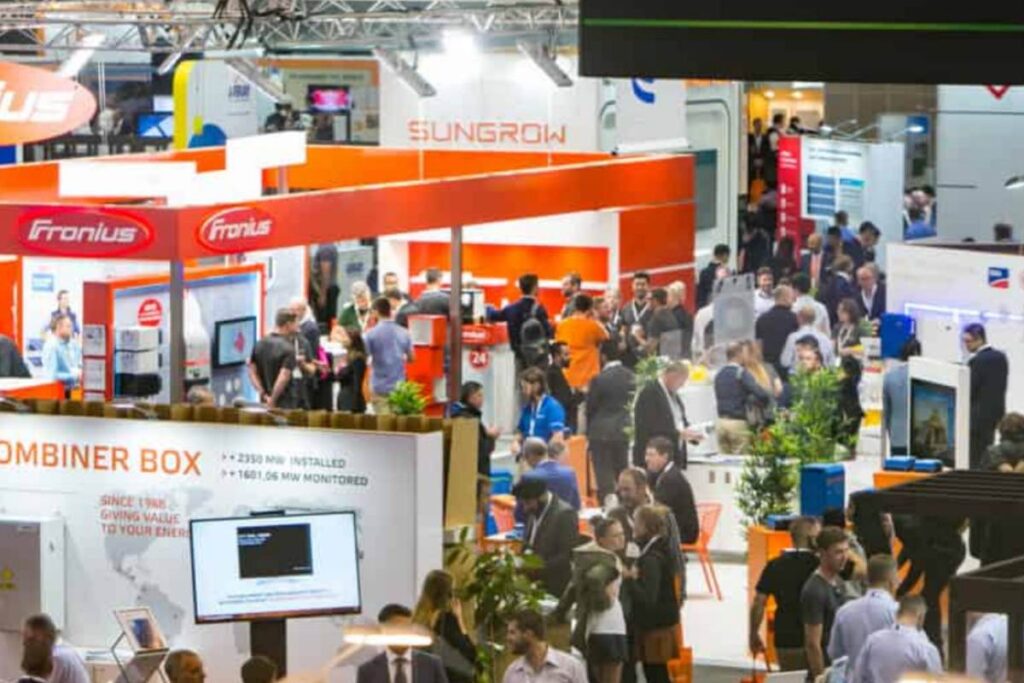 This event is held in partnership with the Clean Energy Council and in conjunction with Waste Expo Australia and Energy-Efficiency Expo. Through All-Energy Australia, attendees can attend one event for discussions on clean energy, sustainability, and energy efficiency. Solar experts and distributors get to meet, network, and expand their business interests in the renewables sector.
Below are the details of this event:
Date of the event: October 25-26, 2023
Website: https://www.all-energy.com.au/
Location: Melbourne, Australia
Renewable Energy Expo Myanmar
This renewable energy and equipment event brings solar stakeholders from the government and private sectors together. Even stakeholders from associated industries frequently attend this conference. This event gives room for showcasing the most recent development and trends in the renewables sector. It involves seminars as well.
Below are the details of this conference:
Date of the event: November 16-18, 2023
Website: https://www.renewmyanmar.com/
Location: Myanmar Expo Hall, Yangon, Myanmar.
Solar & Storage Live UK
As you may have already figured out or guessed, this conference is the largest solar gathering in the UK. It's themed on powering the smart energy of future generations. It discusses unifying electric vehicles, solar products, and storage technologies. Key players in the smart energy value chain meet and discuss the transition to clean energy. This event will be in the last quarter of the year.
Below are details of the conference:
Date of the event: October 17-19, 2023
Website: https://www.terrapinn.com/exhibition/solar-storage-live/index.stm
Location: Birmingham, UK
Solar Show Philippines
One would think the world's leading conference would be held in a country like China or the US, but that honor goes to the Philippines. The Solar Show Philippines holds the title of the world's largest energy event. This conference has hundreds of speakers, thousands of attendees, and hundreds of exhibitors. This conference is themed on the latest market developments in the industry. It covers topics such as wind power, floating solar technology, energy storage, etc. This conference has eight events. About 92% of the event attendees are Filipinos.
Below are details of the conference:
Date of the event: 15-16 May 2023
Website: https://www.terrapinn.com/exhibition/power-electricity-world-philippines/The-Solar-Show.stm
Location: SMX Convention Center, Pasay, Metro Manila